Multigaming
Starting with my trusty Cormorant, I made myself at home in the "The Forge" region and started missioning for the Lai Dai Corporation. Since I was still busy with my thesis and also attended to four raid nights each week, my time for EvE was rather limited. Still, I was always searching for ways to increase the amount of ISK I own. Since I own a dual monitor setup and a quite powerful PC, I could run EvE at the same time I was running WoW. Name it multigaming – like multiboxing but with two different games.  I was wondering if I could use the time, which I was spending in raids, to profit in EvE.  It would have to be an activity, which only needed little to no attention, doesn't lead to a ship loss and still provides a usable income stream (compared to the almost empty wallet). Turned out, there is an activity, that fits this description: AFK-Mining in Highsec using a little T1 ship. And I had this nice Cormorant. So I slapped two Miner I and an Expanded Cargohold I on it and went out mining. To make it clear, I think mining is rather boring, but if your wallet is almost empty, the possible income was nice. And since I was raiding, I was busy with some other game anyway. Also, back then we were still in the middle of making progress, which means a lot of wipes. Or in other words, a lot of short breaks, where I could send my Destroyer back to station, unload it and send it back to an asteroid belt. I kept this up until it stopped to be an appreciable source of income.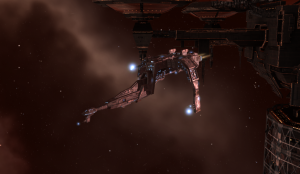 The Caldari Cruiser "Caracal"
With only little time for playing EvE, I had lots of skill training time, which enabled me to not only aim for better ships, but also to throw in the first science skills, which would be necessary for the research agents I aimed for. Speaking of ships, my first aim was the Caracal. Since there is a huge difference between being able to put a pod in a ship and actually do something with a ship, I started to look for fits and stumbled across one, which is posted on the EvE-Uni-Wiki and added two rather cheap medium shield resistance rigs (~120k ISK each) to it:
[Caracal, PvE Basic Skills Caracal]

Compact 'Limos' Assault Missile Bay I
Compact 'Limos' Assault Missile Bay I
Compact 'Limos' Assault Missile Bay I
Compact 'Limos' Assault Missile Bay I
Compact 'Limos' Assault Missile Bay I

Invulnerability Field I
Photon Scattering Field I
Large Shield Extender I
Large Shield Extender I
10MN Afterburner I

Ballistic Control System I
Ballistic Control System I

Medium Anti-EM Screen Reinforcer I
Medium Anti-Thermal Screen Reinforcer I
[empty rig slot]

Hobgoblin I
Hobgoblin I
So, I added the ship and those modules to a new EvEMon-Skillplan and set up my training queue accordingly. A few days later, I had my brand new, fully fitted Caracal. This started to one-shot stuff in lvl.1 missions and also the first lvl.2 mission was a blast. Then I almost lost the Caracal in the second lvl.2 mission and found myself in my pod. What happened?
The mission was Recon (1 of 3). Clueless as I was, I accepted it, warped to my place and started shooting things. What could possibly go wrong? Turned out: A lot! The first wave came in: a frigate, a cruiser and a battle cruiser (or putting it in a newbies view: a small plus, a not so small plus and a bigger plus). I was worried about the battle cruiser, but the frigate already exploded and there wore only two ships on the grid. So this seemed fine. Then more ships turned up, mainly elite cruiser. I wasn't able to do much damage, but they did to a lot to me. So I started to warp out and back in. Sniped more frigates, but after the fourth wave spawned, I wasn't able anymore to get out in time. My cruiser blew up. Back at my current home station, I bought a shuttle and set course to Jita in order to buy my second Caracal (which still has a "II" at the end of its name). Then I did a little google-fu. Turned out, I wasn't the only one with the problem. The solution was apparently to just fly to the second gate, before there are that many waves of NPCs spawned. The solution seemed so easy that I was wondering what the mission text actually said. So I looked it up:
Objectives

Scout the deadspace areas, then report back to your agent. Destroying any pirates found in the area is not a requirement.
Reading quest mission text, useful skill to have. Should've known that from WoW already. Still, there now was that room full of stuff that blew up my Caracal – so how to deal with that? I didn't want to wait till after the down time on the next day. So I got the cheapest frigate on that market that I could fly, slapped some shield tank and an afterburner on it. Warped in, approached the exit gate, activated my afterburner and hammered on the warp button. With 15% armor left, I was finally in warp. Mission completed.
Not much happened in the following two weeks. I continued to enhance my science skills and continued to fly missions. I also skilled for having a first dedicated salvage vessel and bought it eventually. So, a usual newbie start, I guess, at least with the missioning. This continued until lvl.3 missions started to show up at the horizon. It was clear that I would need a bigger ship in the near future…
Clueless in Space – the random mishaps of an EvE newbie – will continue soon™…